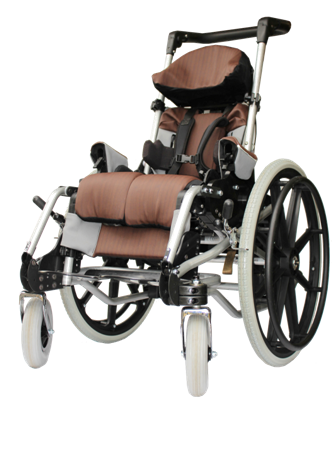 A highly versatile, folding, tilt-and-recline wheelchair for children in less resourced countries from age 1 to age 14.
The ROCKIT Chair can be configured with 3 wheelbase options to address the specific demands of the wheelchair recipient and the environment.
The ROCKIT Chair features numerous seating and positioning options to provide comfort and support for children with complex seating needs.
The ROCKIT Chair can be produced by the indigenous population, creating employment opportunities for the able-bodied and disabled.
Specifications
Everything is included...except the kid.
Therapeutic Support/Adjustability
Fully adjusted for the child in less than 20 minutes

Head Support

Shoulder Height

Harness

Trunk Support

Seat Belt

Hip Guides

Seat Depth

Leg-Drop

Less tool-time, more valuable time working with the child
Growable and Adjustable
Tilt-In-Space Functionality

The Tilt-in-Space and Recline feature helps the child be in the right position for his or her daily activities.
Wheelchair Testing
The ROCKIT was subjected to the standard 200,000-cycle double drum test, without any structural failures. It was additionally subjected to 2 more aggressive double drum tests, which served to parallel more rugged conditions. The ROCKIT went through another 200,000 cycles with only one front pivot failure. We feel confident that the ROCKIT Chair will be able to withstand a minimum of 5 years of normal wear and tear in less resourced countries.